| | | |
| --- | --- | --- |
| " | Mary: This isn't a joint, it's a frozen french-fry. | " |
'The Dicks They Are A Changin'' is the fourteenth episode of season 1 of 3rd Rock from the Sun. It originally aired on 9 March, 1996.
Plot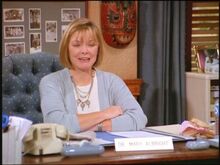 When Nina tells Dick that Stanford has no graduate records on him and Dick reacts defensively, Mary observes that it's virtually impossible to get a straight answer from Dick about his past. As Mary reminisces about her wild, rebellious times at Berkeley and Mrs. Dubcek contributes some colorful recollections, Dick chides Tommy that, as information officer, he failed to brief the crew on the crucial sixties decade.
Mary becomes convinced that Dick is actually Manny Rosenberg, a sixties activist whom she knew briefly and who has been in hiding from the FBI for decades. Dick denies this but soon realizes that his presumed identity has somehow made him more attractive to Mary. Later, at Mary's apartment, Dick thinks that they'll at last be having sex, but Mary angrily reveals that she and Manny had an upsetting encounter that she still hasn't gotten over, and she asks Dick to leave. But they share a warm moment afterward with confessions that they both used Dick's "Manny" identity to serve their own ends.
Meanwhile, Harry joins a CD club and finds the responsibilities of membership overwhelming.
Cast
Main Cast
Recurring Cast and Guest Stars
Production Notes
A few of the songs Harry got from the Records club were "Electric Avenue" by Eddy Grant and "Wake Me Up Before You Go Go" by Wham!
The production code for this episode is 108
This is the thirteenth episode to be directed by Robert Berlinger and the second to be written by Michael Glouberman and Andrew Orenstein