"
Sally: She cares about you so much, she is upstairs, about to have sex with another man.

Dick: She would do that for me?

Sally: If you don't stop her.

"
See Dick Continue to Run, Continued is the second episode of season 2, and twenty-first episode overall, of 3rd Rock from the Sun. It originally aired on September 22, 1996.
This episode is the conclusion of a three episode story arch.
Plot
After a lot of trying, Tommy, Sally and Harry free 'Good Dick' from his invisible box.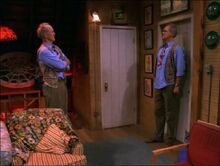 Meanwhile, Dick's replacement has a date with Mary. When Dick hears about this, he no longer has the strength to try to fight the other Dick. After the whole team has smacked him in the face, he realizes he should be strong and face his opponent.
A fight follows and the good Dick wins it. At least, that's what the Solomons think.
Cast
Main Cast
Recurring Cast and Guest Stars
Denis Rodman as Denis Rodman
Production Notes
This episode is the conclusion of a three episode story arch following See Dick Run and See Dick Continue To Run.
John Lithgow won the 1997 Emmy for Outstanding Lead Actor in a Comedy Series for his performance in this episode.
This episode takes place two days after the last episode's incidents.
As from this episode, the show's title's translation in Latin America changed to "La Tercera Roca Del Sol", which is an exact translation.
This episodes production code is 202.
This is the twentieth episode to be directed by Robert Berlinger and fifth to be written by Bill Martin & Mike Schiff.