"
Evil Dick: It appears I underestimated your stupidity.

Good Dick: Aha! That was your first mistake.

"
See Dick Continue to Run is the season premiere of season 2 of 3rd Rock from the Sun. It originally aired on September 22, 1996
This is the second episode in a three episode story arch along with See Dick Run and See Dick Continue to Run, Continued.
Plot
With Dick locked in the basement in an invisible box, 'Evil Dick' proceeds to take over the Solomon family and boss them around. He asks them to fetch a list of materials with which he secretly plans to spawn his own private army of clones; he then asks Mary to dinner at his house, hoping to lure her into bed. Harry and Tommy feel they should disobey his orders, but Sally insists that he, like it or not.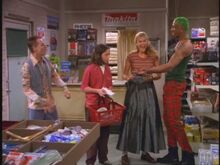 Harry discovers that 'Good Dick' is still locked in the basement. Later the Solomons free 'Good Dick', who arrives upstairs to find his evil counterpart wooing Mary in the living room. 'Good Dick' is upset by this, and retreats outside to the Rambler, but his family tell him that they've had enough of his evil counterpart, and convince 'Good Dick' to take on and defeat 'Evil Dick'.
Meanwhile, while Sally, Harry and Tommy are shopping, they meet Dennis Rodman, who turns out to be an alien from their home planet.
Cast
Main Cast
Recurring Cast and Guest Stars
Production Notes
This is the second episode in a three episode story arch along with See Dick Run and See Dick Continue to Run, Continued
The production code for this episode is 201
This is the nineteenth episode to be directed by Robert Berlinger and fourth to be written by Bill Martin & Mike Schiff