Oh dear!

This article is listed as a stub which needs fixing. Why? It's too short! - Could you help?
(This template will categorize articles that include it into Category:Stubs.)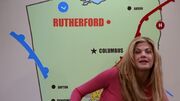 Rutherford, Ohio, is a fictional town in Ohio approximately 52 miles or one hour away from Cleveland, Ohio and is the main setting for 3rd Rock from the Sun. It has been described as "so delightfully average."