"
Harry Solomon: Dick, I can't see through my eyelids.

Sally Solomon: Open them.

Harry Solomon: Oh, they're manual.

"

– Harry and Sally Solomon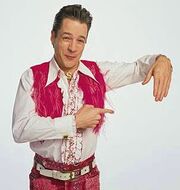 Harry Solomon is perhaps the most exquisite of the Solomons, and the most comfortable on earth. He originally only came along because they had an extra seat on the spaceship but it was later discovered that a transmiting chip was implanted on his brain. Harry became the transmitter for the expedition, and, often at inopportune times, received messages from the Big Giant Head, the Solomons' supreme leader. Harry has a lasting relationship with Vicki Dubceck, the daughter of the Solomon family's landlady. Harry is also considered very handsome and at one point he even loses his signature squint in order to look more refined. During his time on earth Harry got a job as a bartender, and graduated from nightschool, and even learned how to panhandle. At one point he attempted to have a baby with Vicki but the Big Giant Head did so first.
Alternate Universe
In the two-part episode "Dick'll Take Manhattan" Harry is a big shot NBC network Executive in contrast to his most known role as a total idiot. As a network Executive he splits the show "Will and Grace" into two separate shows claiming that Will will have one night and Grace the other. When Dick and Sally decide to return to their universe Harry is resistant at first but soon is told that he has been replaced as network Executive by Mrs. Dubcheck then is willing to go home.
Community content is available under
CC-BY-SA
unless otherwise noted.