"
Sally: I want to meet your mother, we could all go out to dinner, the three of us.

Mr. Randall: Don't you think it's a little early?

Sally: No, breakfast would be a little early, dinner is fine.

"

–Sally on meeting Mr. Randall's mother.
Father Knows Dick is the eighteenth episode of season 1 of 3rd Rock from the Sun. It originally aired on May 7, 1996
Plot
Dick decides that he is now Harry's father, and sets out nurture the suddenly rebellious Harry. Harry feels useless and upset when he figures he doesn't have a function the way the rest of the Solomons have, however, he decides to run away when learns that he has a "thing" in his head, a communications device the others knew about all along.
Meanwhile, Sally goes on a date with Mr. Randall and meets his mother and the pair do not get along all to well, in fact things come to blows in the ladies.
Cast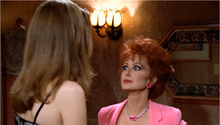 Main Cast
Recurring Cast and Guest Stars
Production Notes
At the end, the song "Mama He's Crazy" by The Judds plays in the background. Frances Randall is played by Naomi Judd.
The title of this episode is a reference to the 1950s comedy TV show 'Father Knows Best'.
This is the last time in the show they mention Harry's painting.
This is the second episode not to feature Mary, although Jane Curtin still receives billing in the opening credits.
The production code for this episode is 119
This is the seventeenth episode directed by Robert Berlinger and the second written by Bob Kushell