"
Sally: Eh-Excuse me, but there's something about the thickness of your neck and the...broadness of your shoulders that...makes me feel like you'd be an agile hunter and provide well for our children.
"

–Sally on first meeting Mr. Randall
Dick Like Me is the sixteenth episode of season 1 of 3rd Rock from the Sun. It originally aired on April 23, 1996.
Plot
When Nina arrives at work in an ethnic headdress, Dick begins to realize that the Solomons have no ethnic group, and takes it upon himself to research them all and decide which one is the best. Dick grabs an anthropology book for the answer.
After Mary says she likes the Italians, Dick, Harry, Sally and Tommy turn up at her house in the middle of the evening dressed as Italians and proceed to sing a rendition of 'That's Amore' by Dean Martin, much to the annoyance of both Mary and her neighbors.
It's Mrs. Dubcek who finally gives them there heritage, Jewish, by commenting on their surname, Solomon.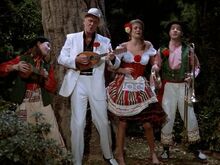 Meanwhile, during a chat with Tommy's teacher Mr. Randall, Dick learns that he isn't fitting in at school. Sally falls for Mr. Randall, who invites her to attend the school dance with him; however, she becomes nervous when she realizes that she doesn't know how to dance.
Cast
Main Cast
Recurring Cast and Guest Stars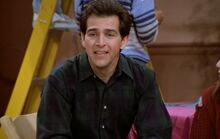 Production Notes
In this episode we learn that Mary is Irish.
The production code for this episode is 115
The episode title is a pun on the 1964 movie title Black Like Me.
This is the fifteenth episode directed by Robert Berlinger and the second written by Joe Fisch.