"
Sally: Dick! Permission to bitch!

Dick: Permission granted.

"
"Dick, Smoker" is the fifth episode of season 1 of 3rd Rock from the Sun. The episode originally aired on 6 February, 1996.
Plot
In a bar, Dick sees a nerdy student smoking. When he realizes the smoking makes the student cool, he takes up smoking as well, he soon becomes addicted. While with Sally at the dentists office Dick is told he isn't allowed to smoke in the building. While searching for a place to smoke, Dick accidentally locks himself in a stairwell and he's unable to find a way out.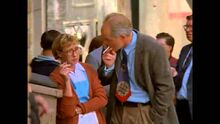 Meanwhile, Sally is getting sick and tired of Dick overruling her all the time and besides that, she has a sore tooth. When Dick doesn't come home, she declares herself High Commander.
Cast
Main Cast
Recurring Cast and Guest Stars
Production Notes
John Lithgow won the 1996 Emmy for Outstanding Lead Actor in a Comedy Series for his performance in this episode.
Jane Curtin doesn't appear in this episode, however she still has her name in the opening credits.
The production code for this episode is 107
The episode is the fourth episode to be directed by Robert Berlinger and second to be written by Bill Martin & Mike Schiff