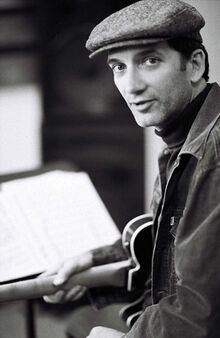 Ben Vaughn is an American musician, music producer and a longtime Rambler enthusiast.
Vaughn grew up in Collingswood, New Jersey, and his interest in music began at age 6 when his uncle gave him a Duane Eddy record. The "Ben Vaughn Combo" released two albums and toured the U.S. from 1983 to 1988. Vaughn then had a solo career, 1988–1994, recording four albums and touring Europe and the United States.
Vaughn is a longtime Rambler automobile fan and in 1988 recorded El Rambler Dorado on his Blows Your Mind album. As a musician, he is perhaps best known for his "Rambler '65" album when Vaughn decided to "cut out the middleman," as he puts it, and recorded an entire album in his 1965 Rambler American. Vaughn turned his car into a makeshift studio by putting the recording equipment inside his car. Whether it was a gimmick or an act of showmanship, but according to most reviews, the music he created inside his car is "timeless" rock roll.The Rambler '65 24-minute music video for this album also includes vintage AMC TV advertising clips.
As a producer, Vaughn made albums for artists such as Charlie Feathers and Los Straitjackets. He also collaborated with Alan Vega and Alex Chilton and contributed a cover, (Paradise) to an Alex Chilton tribute album released by Munster Records based in Madrid, Spain.
In 1996, Vaughn produced Ween's cult classic, a ten track exploration of country music - 12 Golden Country Greats. Musically, 12 Golden Country Greats was, more or less, classic country sounds. Ween and Vaughn went so far as to enlist the services of veteran Nashville session musicians. However, while even the vocal performances were an exquisite mimic of country singing, the album's lyrics were decidedly twisted.
Vaughn also re-recorded "I Found Her Telephone Number Written on the Boy's Bathroom Wall" for the Mad Magazine-inspired song compilation Mad Grooves.
Now living in California, Vaughn works in film and television. Notable for his work on That '70s Show, 3rd Rock from the Sun, Black Mask and Psycho Beach Party. "That 70s Show" has another Alex Chilton connection, with the title song being a re-worked version of "In the Street", a Big Star song. Vaughn his work as the composer for the NBC 3rd Rock from the Sun series also features a 1962 Rambler American convertible used by the show's main characters.
Vaughn also is the producer and host of The Many Moods of Ben Vaughn, a weekly, hour-long radio show on NPR. The show, which features varying genres of music each week, airs on public radio stations.
Vaughn was a longtime resident of Collingswood, his son Andrew ran a punk rock clothing store in downtown Collingswood.
External Links